*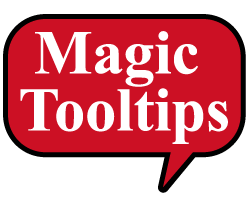 Gravity forms tooltips Magic Tooltips For Gravity Forms is a WordPress plugin that easily let's you add tooltips to the Gravity Forms plugin form fields.
Our plugin is very easy to use. You won't have to do any programming or coding.
Just install and activate and begin adding tooltips to your Gravity Form fields right away.
"to add tooltips to your forms…Magic Tooltips is a great plugin" – WPMUDEV
To see Magic Tooltips For Gravity Forms in action, visit our contact form.
Check out screencaps here.
If you want to use the plugin on one domain/website, you can purchase a single domain license. A developer license is also available which can be used on unlimited domains/websites.
Pricing is available here.
Magic Tooltips For Gravity Forms features:
Gravity Forms Tooltips Plugin Settings
Hide the description field and show it only as a tooltip.
Show the description field and also show a tooltip.
Reveal or keep hidden the tooltips when the mouse hovers over the title of a form field.
The tooltips can be shown when a form field is currently targeted by the keyboard, or activated by the mouse.
Display the help icon after the title of form field.
An underline can be added  to the title of a form field.
Use your own Custom CSS.
NEW: Display a field label as a tooltip title or create a custom label.
NEW: Add the jQuery Accordion to your tooltips.
NEW: Disable tooltips by device.
NEW: Custom tooltip styling (Named Styles) is now supported for each field.

NEW: Add tooltips to Form Field Descriptions and HTML fields.
NEW: Custom help icons for tooltips now supported.
NEW: Submit button tooltips are now supported.
NEW: Lightbox support for tooltip images added. To use this feature check the following options in the settings: "Enable lightbox mode for images in tooltip content" and "Show lightbox when user clicks on help icon".

NEW: No-Label Fields – With this new feature, you can hide field labels and display a placeholder label inside the field itself. To use this new feature, check the option for When to Show Tooltip: "When mouse hovers over the input field of form field."
NEW: You can now configure responsive CSS for mobile devices with the Tooltip Style Generator.
NEW: You can now add tooltips to an html block.
NEW: You can now add tooltips to a section break.
NEW: Support added for radio button and checkbox answer choices.
You can now add tooltips to individual radio button and checkbox answer. Check out these easy instructions to get started.
NEW: Gravity Forms Tooltips Visual Editor.
Use the visual editor to easily style your tooltips.
NEW: Video Tooltips.
Now you can add a Youtube Video in a tooltip by using the standard Youtube Embed code. Shortcode is also supported.
Gravity Forms Tooltips Style Generator
Use HTML in a tooltip.
Display images in a tooltip.
Use links in a tooltip.
Set the position of the tooltip.
Adjust the line height of the tooltip.
Modify the font size of the tooltip text.
Use different colors for the tooltip text.
Choose a different background color of the tooltip.
Add a new border color to the tooltip.
Increase or decrease the border width of the tooltip.
Change the border radius of the tooltip.
Tweak the padding of the tooltip.
See a complete preview of of your tooltip style settings.
Ability to save or reset your tooltip settings.
For additional questions or comments about our Gravity Forms tooltips plugin, get in touch with us via our Contact page.